Before I began to work for the rights of children, I constantly found myself struggling with a 'why'.
Why are some children born to work at the cost of their freedom and childhood?
Why do the economic conditions of parents determine a child's education and future?
Why are we employing children of the poor to make clothes and toys for children of the better-off?
My articles published in the 1980s helped raise critical questions on child labour, trafficking of children, sexual exploitation, the lack of education, and more.
This compilation of articles
has contributed towards laying
the theoretical foundation and created a mass movement for the rights of children. Over the past
36 years, this movement has led
to the establishment of institutions
of governance, national and transnational policies for the protection of children, and the main streaming of child rights on the global development agenda.
As you have picked up this book, it is my sincere hope that you will exercise your right to ask questions and your will to help the children of the world.
—Kailash Satyarthi
"Once, a fire broke out in the forest.
All the birds and beasts, including the lion, the King of the Jungle, started running for their lives. In the midst of the chaos, the lion caught sight of a hummingbird flying towards the fire.
Shocked, the lion asked, "What are you trying to do?"
The hummingbird, indicating its beak, said, "I am carrying a drop of water to extinguish the fire."
The lion was amused. It said, "How can you douse a fire with just a drop?
But, the hummingbird was unshaken. It said: "I am doing my bit."
During my Nobel acceptance speech, when I lost some papers for my speech, I was reminded of this story that I then narrated to the audience.
Join me in my movement for children and do your bit, like the little, brave hummingbird.
—Kailash Satyarthi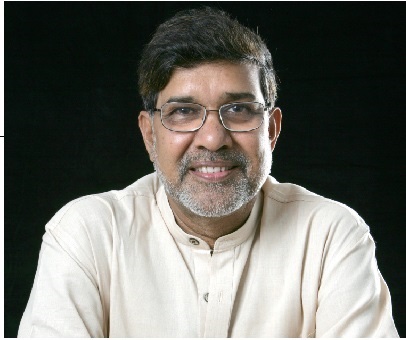 Kailash Satyarthi
Nobel Peace Laureate Kailash Satyarthi is the first Indian-born resident of India to have been conferred with the honour.
After completing his graduation in electrical engineering, Mr. Satyarthi began teaching at a university. However, soon, the desire to work for children who are left-behind, compelled him to quit his job.
The issue of child rights and child labour was not yet a part of the public discourse when Mr. Satyarthi founded the Bachpan Bachao Andolan (BBA) in 1981. The organisation has rescued more than 85,000 children from conditions of exploitative labour and modern-day slavery, and successfully rehabilitated them into society.
As a global campaigner for child rights, Mr. Satyarthi founded the largest civil society network for the elimination of child labour—the Global March Against Child Labour, a worldwide coalition. He is the Founder of the Global Campaign for Education which works to universalise education. Mr. Satyarthi also initiated the first global social labelling called Rugmark which was successful in reducing child labour in the South Asian carpet industry by 80% within 15 years.
To fulfil his vision of a world free of violence against children, Mr. Satyarthi has established the Kailash Satyarthi Children's Foundation. The foundation's mission is to help create and implement child-friendly policies through research, advocacy and campaigns to ensure the holistic development and empowerment of children.