Rooted in soil, the short stories contained in 'Mirror Image', showcase a vision of life in all its different shades and ramifications, dealing with multifarious nuances, layers and the images reflected in them. The stories are subtle, exploring both the 'inside' and 'outside' of the characters. In these stories there are spirited women-realistic and down-to-earth females carrying their own space amidst the patriarchal set up.
In 'Sumangali', a chance encounter with a scheming salesman of Sumangali Scheme pushes the old widow of the migrant labourer into a cycle of exploitation. 'Bye-Bye Blackbird' uncovers the unnoticed and unacknowledged shades of racism in school in Sydney. 'My Daughter's Father' deals with the theme of love and infinite betrayal of an abused young girl.
Rest of the stories revolve around the themes of loss of trust, fragility of interpersonal relationships, restoration of faith, strange encounters, mystery of human experiences and sudden revelations and epiphanies in life. Thematic structure of the stories is quite rich. The author's empathy for her characters, in depth understanding of human nature add up to richly layered stories.
The power of these stories lies in the technical device employed as well as in delineation of the psychic patterns in characters.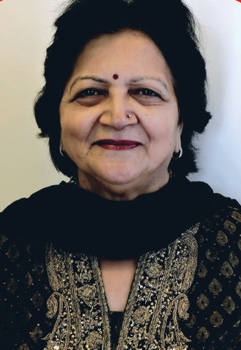 Dr. Rama Gupta
Dr. Rama Gupta grew up in remote village of Sunni in Shimla District where listening to folk stories in summer vacations was one of her entertainments. She was Principal of Govt. Girls College, Shimla and started writing stories after retirement.
Education: M.A. English from Punjab University, M.Phil. and Ph.D. from Himachal University.
Work life: Member of Academic Council & President of Sports Council, Himachal Pradesh University; Member of Executive Council of Central School Management Board of Kendriya Vidhyalya, Shimla; Executive Member of Governing Council of H.P. Sarva Shiksha Abhiyan and Disabled and Physically Challenged children.
Presently engaged with International Society of Karen Horney, U.S.A, and Ehsaas Adabi Society dedicated to promotion of languages and literature. She is also working for All India Women's Association for Social Welfare.
Publications: Published stories in magazines like Women's Era, Alive and Harigandha; Margaret Atwood: A Psychoanaly-tical Study (New Dawn Press, Inc, USA, UK and India).