M.K. Gandhi: An Autobiography is the story of Gandhiji's, covering his life from early childhood through to 1920. It gives an authentic account of the personal life of a man who led millions into independence. Gandhiji wrote in his autobiography that the three most important modern influences in his life were Leo Tolstoy's The Kingdom of God Is Within You, John Ruskin's Unto This Last and the poet Shrimad Rajchandra. In the last chapter, he notes that his life from this point onward became so public that there was hardly anything about it that people did not know.
Being a proponent of Ahimsa or nonviolence, Gandhi diligently stuck to a set of practices from early on in life. The book gives us a better understanding of the habits that Gandhi rigorously inculcated into his daily routine. His childhood, his journey to England, his life in South Africa and the non-cooperation movement in India are all discussed at length in this mind-opening book.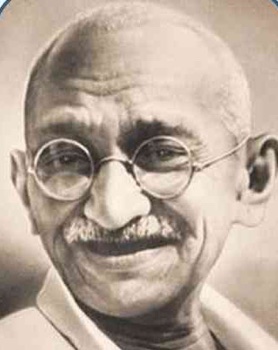 M.K. Gandhi
Born on 2 October 1869 in Porbandar, Mohandas Karamchand Gandhi was a great leader of the Indian Independence Movement in British-ruled India. Born to Karamchand Gandhi and Putlibai Gandhi, this saint employed nonviolent civil disobedient to inspire movements for civil rights and freedom across the world. The honorific Mahatma applied to him first in 1914 in South Africa is now used worldwide and he is known more famously as Mahatma Gandhi.
Gandhi first employed nonviolent civil disobedience as an expatriate lawyer in South Africa, in the resident Indian community's struggle for civil rights. After his return to India in 1915, he set about organizing peasants, farmers, and urban laborers to protest against excessive land-tax and discrimination. Assuming leadership of the Indian National Congress in 1921, Gandhi led nationwide campaigns for easing poverty, expanding women's rights, building religious and ethnic amity, ending untouchability, but above all for achieving Swaraj or home-rule.