This is a book of memoirs of administrative experiences– particularly those which were a consequence of hypocrisy, haughtiness, ignorance and selfishness of the rulers, administrators as well as the public. The incidents have been described in satirical style in order to make them amusing to the reader.
The bureaucrats, having been selected through open competition, are – saving the 'honourable' exceptions – more intelligent, and therefore, many of them indulge in greater hypocrisies than the common man does. And the politicians, who become Netas only after proving their superior intelligence in leading the herd, take the pride of the place among the most dexterous hypocrites.
As the 21st century is advancing, the dishonest and dishonourable acts are being reinterpreted to preclude most of them from the ambit of dishonesty. Boundaries of honesty are being so stretched that dishonesty can be pursued without pinching one's conscience 'unnecessarily'. Further, the animal kingdom's culture of big fish swallowing the small fish is being adopted by the powerful without any wrinkle on their face.
____________________________________________________________________________________________________________________________________________________________________________________________________________________________________________________________________________________________________
Contents
The Motivation Pgs—7
1. Choose Your Time and Place Pgs—11
2. Aap To Na Jaane Kaise I.P.S. Me Aa Gaye! Pgs—15
3. Out of Sync Professors Pgs—19
4. A Confession by D.G. Police Pgs—21
5. The Most Potent Weapon Pgs—26
6. Shaving – A Pain that Turned into Pleasure Pgs—30
7. Better Resign from Police Pgs—33
8. Bala's Riding Blues Pgs—36
9. If You Really Love Me Darling Pgs—39
10. The Extra-Adventurous Pgs—41
11. How to Displease Your Wife? Pgs—45
12. Commit Suicide, Resign, Take Leave and Go Home Pgs—48
13. And Mr. Crawford Proceeded on Six Months' Leave to England Pgs—53
14. Par Bhai Danda to Aap Logon ke Haath Me Hai (But the Baton is in Your Hands) 56
15. Many a Misadventure Pgs—59
16. Tactfulness Pgs—63
17. Sale Sahab Ki Shan Me Gustakhi Karta Hai? Pgs—68
18. Talwar Uthana Chahe Na Aaya Ho, Colonel To Ban Gaye Pgs—72
19. Yeh To Apni-Apni Intelligence Ki Baat Hai Pgs—75
20. There is no such Officer in this Department Pgs—77
21. Sher Ka Shikar Pgs—81
22. Badmuzanna Basilsile Vazarat Tark-Sakunat Kar Gaya Hai Pgs—84
23. After All It is Democracy Pgs—86
24. Beta! S.P. Sahab Kya Bathroom Me Hain? Pgs—89
25. A D.I.G. with Big Mustachios Pgs—93
26. Confounded Pgs—99
27. Secret of Magisterial, Judicial and Pgs—Commission of Enquiry Pgs—103
28. Bina Padha-Likha Bhoot (An Illiterate Ghost) 111
29. Teen Tabarra-Madhe Sahiba, Machchar- Khatmal, Tikona-Samosa Pgs—115
30. A Dwarf in One's Own Eyes Pgs—119
31. Dewedy! You Have Burnt Your Boat Pgs—125
32. The Rosogulla Service Pgs—129
33. The Secret of Veiled Threats Pgs—133
34. A Case for Suspension Dole to Policemen Pgs—137
35. An Alternative Way to Become Chief Secretary Pgs—141
36. The Obstacle-Creators' Club Pgs—144
37. Manava Kahe Guman Kare? Pgs—149
38. Application of Law – West vs. India Pgs—151
39. Transparency in Police Pgs—157
40. Politically Inappropriate Talks on Corruption Pgs—163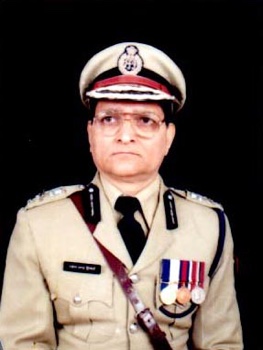 Mahesh Chandra Dewedy
Mahesh Chandra Dewedy L.P.S. (1963) - Retd. D.G. Police, U.P. (2001).
Published books (Hindi): Novels: Urmi, Bhige Pankh and Manila ki Yogini; Poetry: Sarjana ke Swar and Anjane Akash Me; Stories: Ek Bauna Manav, Satyabodh, Love-Jihad and Imrana Hazir Ho, Satires: Clear Funda, Bhajji ka Juta, Veerappan ki Moonchhen and Mahesh Chandra Dewedy ke 51 Shreshtha Vyangya, Memoirs: Prashasanik Prasang.
Publications in leading Indian Hindi/English Newspapers and Magazines: Dainik Jagran, Hindustan Times, Amar Ujala, Rashtriya Sahara, Manohar Kahaniyan, Times of India, etc.
Others: Chairman, Bharatiya Bhasha Pratishthan Rashtriya Parishad, U.P. Attended a 21 days residency in Chateau de Lavigny (Switzerland). Participated in Vishwa Hindi Sammelan, New York; Antarrashtriya Hindi Sammelan, Dubai and International Hindi Meet, China.
Contact: 1/137, Vivek Khand, Gomtinagar, Lucknow, Mob.: 9415063030, e-mail: maheshdewedy@yahoo.com